Being a plasma donor requires time and commitment. To qualify as a donor, you must be in good health and must make a commitment to maintaining a healthy lifestyle and good health to donate your plasma.
At Canadian Plasma Resources, we want to show that we appreciate the time, commitment and, in some cases, the expense that our donors dedicate to helping others. All donors will be enrolled in our Super Hero Rewards loyalty program and could receive valuable gifts and prizes each year.
On your first donation, you are considered an applicant donor. After your second donation, if you pass all screening steps and your test results from the first and second donations are acceptable, you become a qualified donor. Most people that meet the basic donor eligibility criteria can become a qualified donor.
After each donation, your compensation will be sent to you. A qualified donor can donate plasma twice in every 7 days period at the most. You will receive up to $70 per donation.
If you wish, you may donate your compensation to charitable organizations and receive a tax receipt.
We appreciate your commitment and continued support that you have shown through regular donations at CPR. Remember, above all, each donation that you make will be used to produce therapies for patients in need.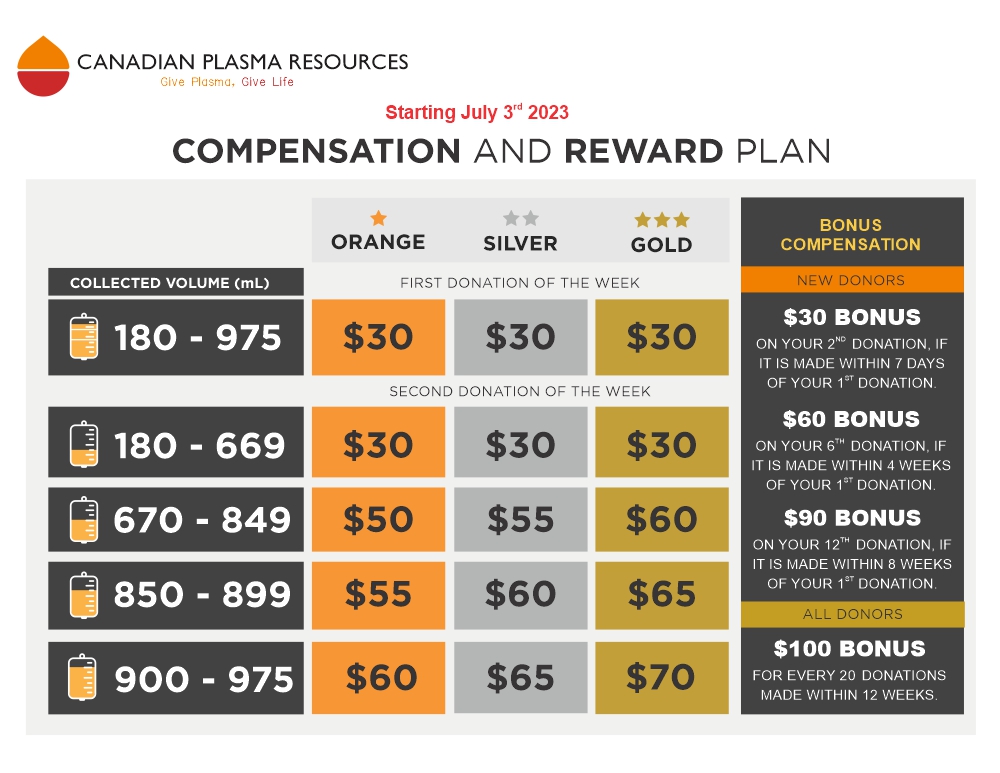 FAQ
Q: How do I reach the Gold Level of compensation?

A: To reach the Gold Level, you must donate twice a week for at least 5 consecutive weeks. (2 weeks of the Orange Level, 2 weeks of the Silver Level, and then you enter the Gold Level)
Q: What happens if I only donate once a week?

A: If you only donate once per week, you will maintain your compensation level; if you only make one donation and you are in the Silver Level, you will remain in the Silver Level in the next week.
Q: I donated twice in a 7 day period, why did I not receive any bonus compensation?

A: To be eligible for the compensation bonus, you must donate twice in one calendar week. This means that the two donations must be made between Monday and Sunday to be eligible for the bonus compensation on the second visit of the week.
Q: I donated, but I have not received my compensation yet. What should I do?

A: Typically, the compensation is sent out to our donors within two business days of the donation. If two business days has already passed and you have not received any email correspondence regarding your compensation, please call your local center or email info@giveplasma.ca to inquire.
Q: I did not donate the full amount of plasma; will I be compensated? Will I maintain my compensation level?

A: Yes, you will be compensated; the amount of compensation is dependent on the amount of plasma you donate. For example, if you donate less than 180ml, you will receive $10; if you donate between 180ml and 669ml, you will receive $30.
Yes, you will also maintain your compensation level if you have an incomplete donation. 
Q: I was informed that my donation was unusable, what does this mean for my compensation?

A: If we cannot use your donation, you will receive $10. This could be due to the donation being under our minimum volume level, hyperlipidemic, or has been overrun with Red Blood Cells (RBCs). Your compensation level will be maintained even if we cannot use your donation for further manufacturing.
Q: Why do donors who donate more plasma receive more compensation? 

A: The donors who donate more plasma receive more compensation because the volume of donated plasma is generally proportionate to the amount of time a donor is hooked to the plasmapheresis machine. More importantly this volume is directly proportionate to the amount of final product (Plasma Proteins) that can be extracted from the raw plasma. More Plasma = More Life-Saving Products for All Patients.