Booking System and Compensation Plan
Booking Appointments
In order to take advantage of all the bonuses and maximize your compensation you need to donate frequently. You can donate plasma twice in a seven day period, but you have to space out your donations in that period by at least a day. Additionally, your donation has to be at least 7 days after the one before last. For example, you can donate on Mondays and Thursdays every week but if you donated on Tuesday and Thursday this week, you cannot donate on Monday next week because that is only 6 days after last Tuesday. So, we suggest that you choose two dates and times that work well for you and book appointments for the next few weeks.
Compensation
Base compensation is $30 and this is the amount you receive for the first donation of the calendar week. Your second successful donation in the same week will earn you anywhere between $50 to $65 depending on the volume of plasma collected and how many donations you made before. To re-emphasize the two donations must be made between Monday and Sunday of the same week.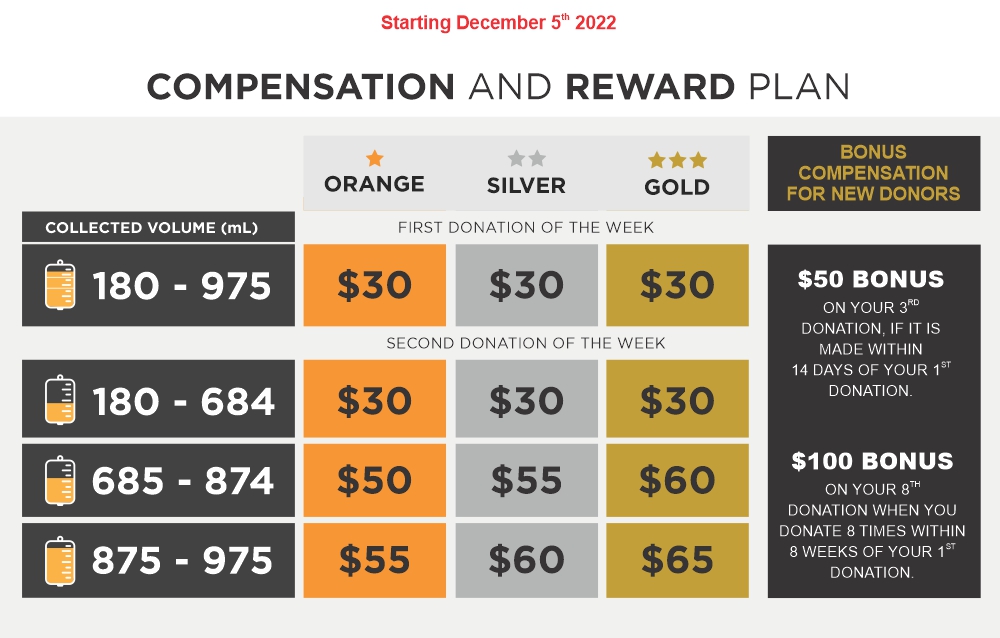 New Donor Bonus
We also have a new donor bonus program, where you can earn a $50 bonus on your third donation when it is made within 14 days of your first donation and a $100 bonus on your 8th donation when you donate at least 8 times in an 8 week period. This means you can make an additional $150 in the first month because you can complete all 8 donations in a month.
Superhero Program
We categorize the amount that you can earn per donation into three tiers – orange, silver and gold. To reach the Gold Level, you must donate twice a week for at least 5 consecutive weeks. (2 weeks of the Orange Level, 2 weeks of the Silver Level, and then you enter the Gold Level). When you reach the gold level is when you can earn up to $95 a week. If you don't make any donation in a calendar week, you go back to the orange level.
Additionally, if you have donated in a given month, you will be entered into a draw to receive valuable prizes such as $100 gift cards for Amazon or Walmart.
Other ways to make money
Referral Program
Our donor referral program involves a simple three-step process:
Step 1: Send a text message, WhatsApp message, Facebook message, Instagram DM, or Twitter DM to the person you're referring.
Step 2: Include your full name in the message.
Step 3: Have the referee show the message to our reception staff after they donate.
Here's how the compensation scheme for CPR's donor referral program works:

Theme Days
CPR will be holding theme days events during the year and giving donors the opportunity to earn a $5 bonus. In order to earn your bonus, you'll need to:
Schedule a plasma donation appointment on the theme day(s).

Follow the theme when you come in for your plasma donation appointment.

Successfully make a plasma donation.

Allow a staff member to take a photo of you in front of our super hero poster to be used in our social media.
How you get your compensation
Your compensation will be sent to you via email money transfer after each donation. Your password will be your donor ID or if you activate auto deposit, your compensation will be deposited into your account automatically. This usually will be done within two business days.