The Role Phlebotomists Play in Plasma Donation
juin 23, 2020
Plasma donation is a complex process that involves a range of scientists and healthcare professionals. From nurses and production managers to registration and plasma processing staff, every team member plays an essential role.
If you've donated plasma in the past, you were probably assisted by one team member in particular during your donation session – a phlebotomist. In today's blog, we'll be shining a light on these incredible medical professionals and explaining how they contribute to the plasma donation process.
What Are Phlebotomists?
Phlebotomists are trained professionals who specialize in extracting blood for research, transfusion, testing or donation purposes. To become a phlebotomist, one has to complete a phlebotomy program at an accredited institution. Once accreditation is attained, a phlebotomist will typically end up working in a hospital, clinic, laboratory or donation centre.
What Job Duties Do Phlebotomists Perform?
Standard job duties that phlebotomists perform include:
· Explaining the blood draw process.
· Prepping patients for blood draws.
· Performing venipuncture and drawing blood.
· Assisting patients or donors if they experience adverse reactions to their blood being drawn.
· Identifying, labelling, and tracking samples collected.
· Maintaining the supplies and equipment used to draw blood.
Most importantly, phlebotomists need to be able to care for patients and ensure that the samples collected aren't tainted and don't degrade.
The Role of Phlebotomists at Canadian Plasma Resources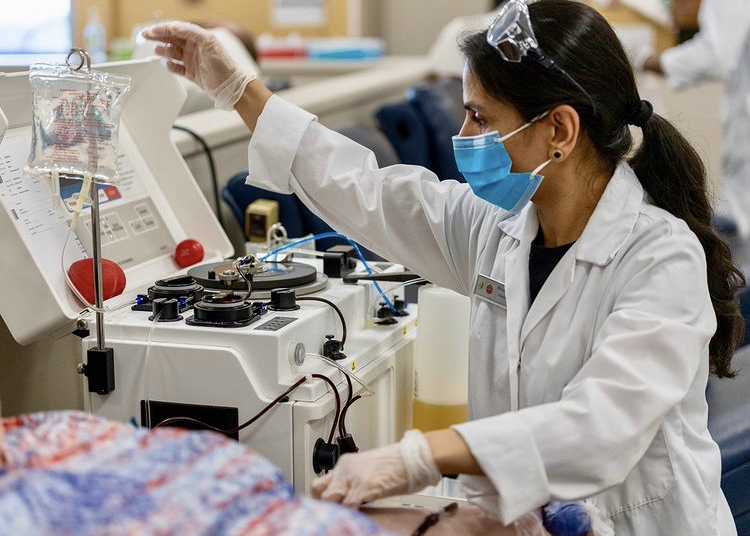 Phlebotomists are an essential part of our business at Canadian Plasma Resources, and we wouldn't be able to conduct plasma donations without them. They work closely with our donors to ensure they have a positive donation experience and are there to guide them every step of the way.
In addition to the duties listed above, phlebotomists at our centres also do the following:
· Check in donors for their appointment.
· Ensure donor confidentiality.
· Set up apheresis machines according to Standard Operating Procedures (SOPs).
· Operate apheresis machines and other equipment according to SOPs.
· Attend to donor needs and ensure they are safe and comfortable throughout.
· Maintain accurate documentation throughout the plasmapheresis procedure.
· Report quality issues or procedural deviation to the QSM department and management.
· Assist physician substitutes as needed.
Over the years, we've seen how our phlebotomists exercise compassion for our plasma donors and the difference their infectious smiles and personable nature makes in the donation experience. We couldn't be more thankful for the many amazing phlebotomists that work for us!
Book your next appointment at a Canadian Plasma Resources centre near you to meet our incredible team of phlebotomists and help create life-saving treatments.