Signs of Dehydration to Look Out for When Donating Plasma
juin 20, 2022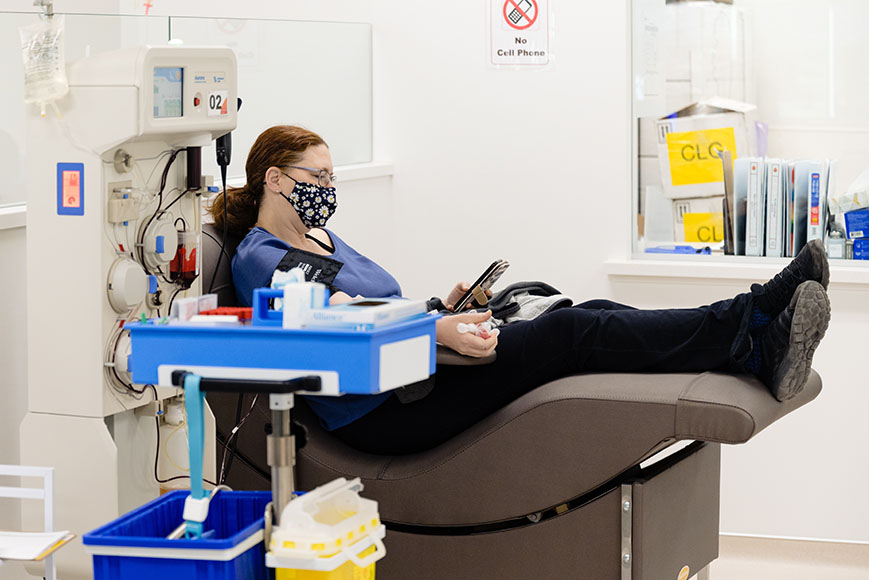 Now that it's officially summer, staying hydrated is something that should be top of mind! For plasma donors, staying hydrated is especially important. Drinking water affects how your plasma is separated and the fullness of your veins. If you're dehydrated, you may be deferred from donating plasma or put yourself at risk of not feeling well afterwards.
Read on to learn more about the signs of dehydration you should look out for when giving plasma. 
Common Signs of Dehydration
Dehydration can occur if you don't drink enough fluid throughout the day or if you lose more fluid than you take in. Since plasma is roughly 90% water, drinking lots of water is needed to help your body recover post-donation.
Some signs of dehydration include:
Dizziness
Fatigue
Confusion
Lightheadedness
Dry mouth, lips, or eyes
Less frequent urination or dark coloured urine
How to Stay Hydrated Before Donating Plasma
Health experts recommend drinking eight 8-ounce glasses of water every day. If you find it difficult to meet the daily recommended intake of water, the following tips may help with that:
Tip #1: Drink Flavoured Water
If you struggle to drink enough water because it's not as exciting as, say, juice or soda, consider adding a sugar-free flavouring powder to your water (bonus points if it contains electrolytes).
Tip #2: Hydrate with Coconut Water
Coconut water is a great source of hydration, as it's loaded with vitamins like magnesium and potassium. It's like nature's sports drink!
Tip #3: Eat Water-Rich Fruits and Vegetables
Watermelon, cantaloupes, tomatoes, and cucumbers are all examples of fruits and vegetables that contain plenty of water. Plus, fruits and vegetables have several vitamins and minerals that are good for your overall health! 
As a plasma donor, you'll also want to avoid drinking caffeine or alcohol for at least six hours prior to your plasma donation appointment. These substances can dehydrate your body.
To feel your best after donating and help ensure that your donation is of the highest quality, it's important to stay properly hydrated before, during, and after giving plasma. Now that you have the knowledge you need to stay hydrated this summer, book a plasma donation appointment today to put the tips in this blog into practice!